This morning kicked off the main event – the 2015 Esri User Conference! This part of the conference took over the entire San Diego Convention Center, with a total of over 16,000 people in attendance! Jack Dangermond kicked things off and shared with the crowd his vision, and the conference theme, of Applying Geography Everywhere. Indeed, Geography is a great integrator discipline and many problems have spatial complexities to them; I think given the growth of our industry and new economies that are emerging in the way of enhancing our experiences of the world around us, GIS is going to play an even bigger role in our world.
Check out Jack's keynote and the rest of the videos from the Opening Plenary at GISCafe
We also had the opportunity to have a preview of the features and functionalities of new web capabilities of Esri Technologies and a first look at ArcGIS Pro – very exciting. A talk followed on the application of GIS to Wildfire Management, which is very important to saving lives and homes. The day's plenaries closed out by Governor Martin O'Malley, discussing how GIS was used to reduce crime and manage city assets, when he was the mayor of Baltimore.
Afterwards, the other young scholars and I met at our posters in the Map Gallery to be there to answer any questions people may have. Of course, I had to take a cheesy photo with mine: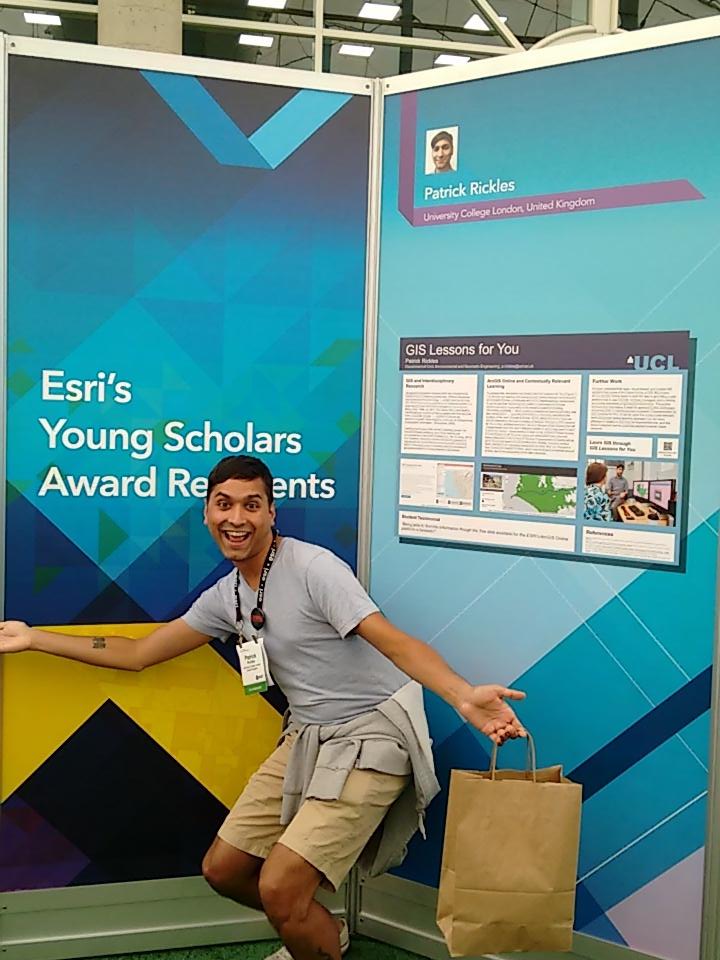 I still can't thank Esri and Esri UK enough for the opportunity to attend; it was an absolutely brilliant event!